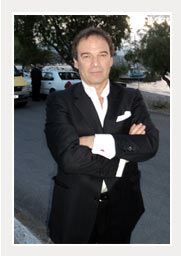 Profile

International executive, with multiyear working experience in USA, Europe, Balkans and Caribbean, senior positions in commercial banks, expertise in Corporate, Investment Banking and Asset Management, significant experience with multinational companies & entrepreneurial activity. Specialized in difficult cases that require internal and business restructuring.

Mr. Santixis was, for two and a half years, Managing Director of Tirana Bank, a Piraeus Bank 500 employees subsidiary in Albania. During this period, despite the financial crisis, Tirana Bank achieved self-funding status, record profitability of 12.2 million Euros, was completely reorganized and increased its branch network to 56 branches, becoming the third largest bank network in the country. The bank had the second largest loan portfolio, with the lowest level of problematic loans.

Mr. Santixis has held several top senior positions in banking in Greece, such as Deputy Governor and Vice President of the Board of Agricultural Bank of Greece, General Manager and member of Board of Emporiki Bank of Greece, Corporate Banking & Private Banking Director of Egnatia Bank and Investment Banking Director of Xiosbank. He has a multi-year experience in the U.S.A and Canada with multinational companies, such as Colgate Palmolive and Bristol Myers Squibb. Mr. Santixis has a significant entrepreneurial experience, being for several years the majority shareholder, President & Managing Director of Magna Trust Securities and also of Magna Trust Investment Fund, a closed end investment fund.

He served as member of Board of Directors in several professional organizations and he also delivered many lectures in conferences and seminars on various banking and finance topics.

Education

Mr. Santixis holds MBA in Finance and International Business from New York University (USA), with scholarships from Onassis Foundation, NATO and NYU and Bachelors Degree in Civil Engineering from National Technical University of Athens.